Read, comment, sign and print PDF documents for free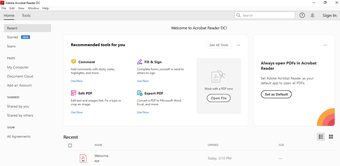 Adobe Acrobat Reader is a free PDF reader that has set itself as the standard software to open PDF documents. Amongst its many features this PDF reader includes printing, adding comments, e-signing your PDF documents and sync features with multiple devices.
How Adobe defines its PDF reader Adobe Acrobat Reader DC
If you're looking for an efficient PDF reader today it's due to the fact that Adobe invented this format and launched it on the market. In fact, Adobe Acrobat Reader DC remains the leading PDF reader even for Adobe's competitors. It is one of the programs that cannot be missing in your office software .
Adobe claims that its Adobe Acrobat Reader DC is not just a PDF reader, but the free global standard by which all products of this type are measured.
Technical
Title:Adobe Acrobat Reader DC 2020.006.20042 for WindowsRequirements:
Windows 7,
Windows 8.1,
Windows 8,
Windows 10
Language:EnglishAvailable languages:
English,
German,
Spanish,
French,
Italian,
Japanese,
Polish,
Chinese